Jan 9, 2021 05:29 PM Central
Guinevere Stasio
I am of the mindset that paint is just paint, and you can paint over it if you don't like it....BUT, when it comes to my daughters' room, I I wanted to maintain a calm vibe because at the end of the day, I want them to be able to relax and go to sleep. That's ultimately the number one goal of any child's bedroom if you ask me - sleep!
Did you know there are COLOR PSYCHOLOGISTS? See, you can create any job to fit your passions! Ok but truthfully, any good home interior designer will tell you that color matters in a room. I always recommend painting your child's room a with a calming palette to help prevent overstimulation and anxiety and promote calming, relaxation and learning instead. Not sure how to do this? Get in touch with. a. color expert like Beverly Ferguson of The Reflective Designer.
And let's touch on how your paint brand makes a huge difference - Ben Moore is what we use every time because it's a quality paint that will always serve you well. We chose Ben Mooore Cloud White for the base of the walls - because you can'. have a rainbow without clouds, am I right? Then I went searching for color inspo i.e. browsing Pinterest and creating a color board to help me organize my thoughts and ideas. Check out our color board here!
A few tips to help you plan:
1. You'll want to decide how big you want your rainbow and how many stripes you want.
2. You'll also want to decide whether you want spaces between your stripes or if you want your stripes to touch.
3. Consider if you want your rainbow to span two walls like we did here, or just one wall.
I wanted this rainbow to look more like watercolor brush strokes and more of a "free-hand paint" rather than uniform colored in stripes. I'll share more about how I did that towards the end.
The colors I chose for the stripes were:
Once you decide on your stripe colors, I recommend getting out a piece of paper and painting them in a few different variations to see the order of the colors you prefer in your stripes.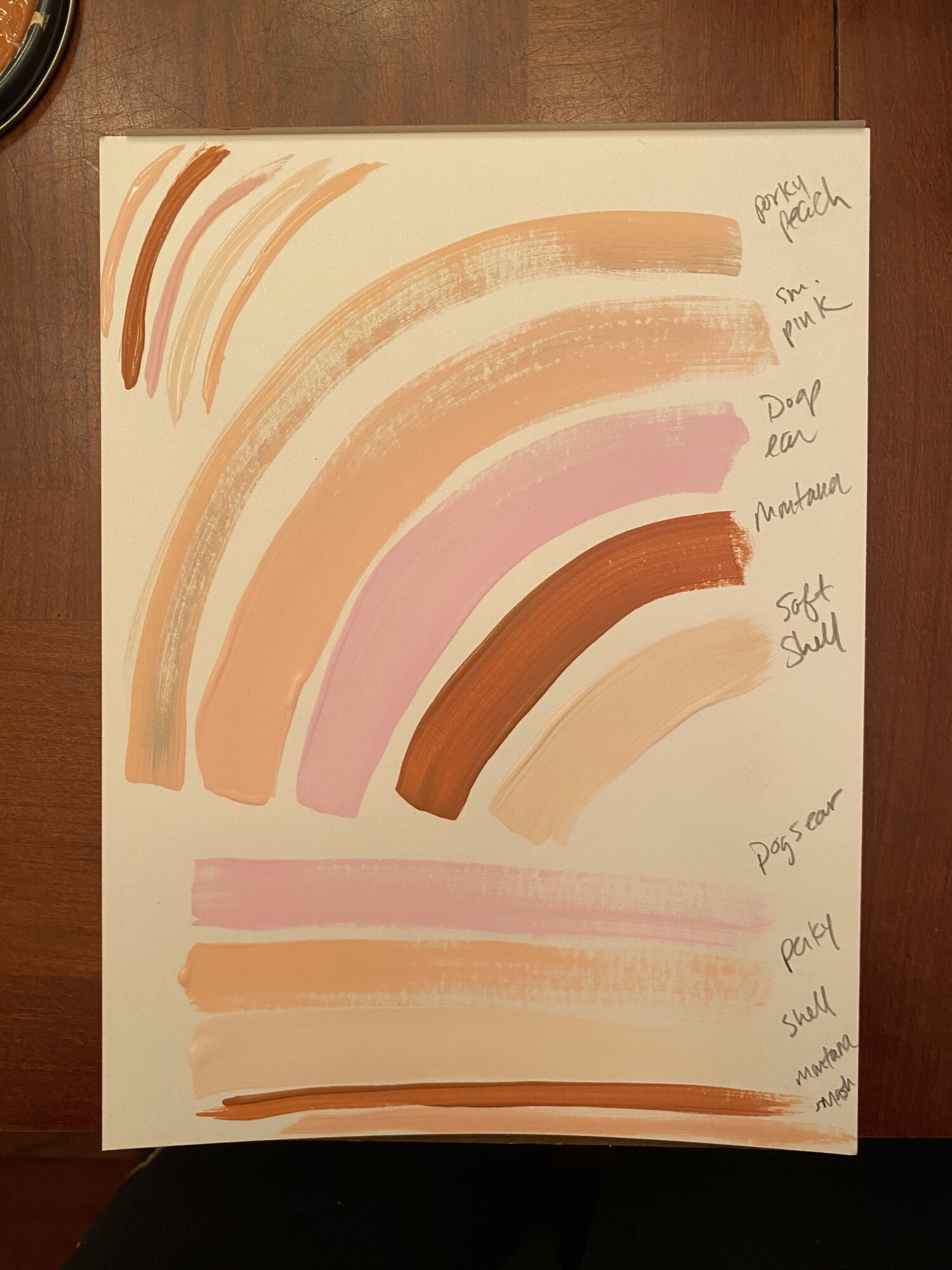 THEN you're ready to start planning! I drew the first line where I thought I wanted it, took a step back and looked at it to see how it looked from a far. I had to adjust it a little to get it to my liking. I recommend using a light colored pencil and NOT a pencil. Some of these rainbow stripe colors will not be dark enough to hide the pencil line.
Then I ripped up small pieces of painters tape and placed them on my line. This really allows you to see the heigh and width and know if you're on the right track. It's all eyeballs at this point friends! Trust your gut and just go with it, try not to focus on perfection. Your kids will love it no matter what! Once you've got that down, you can take long pieces of painters tape, cut slits in it and follow your first line. This allows the painters tape to "bend" around the lines a little. Don't be afraid to peel up and reposition as needed.
From there I made myself a little guide with a piece of cardboard about the width I decided I wanted all my stripes. You can free-hand this of course and not keep the widths the same, but for ease I wanted a guide. I taped my light colored pencil to my guide and ran it along the shape of the first line to mark my second line. Then with a little space, I did my next line, and so on until I had all my lines drawn on the wall.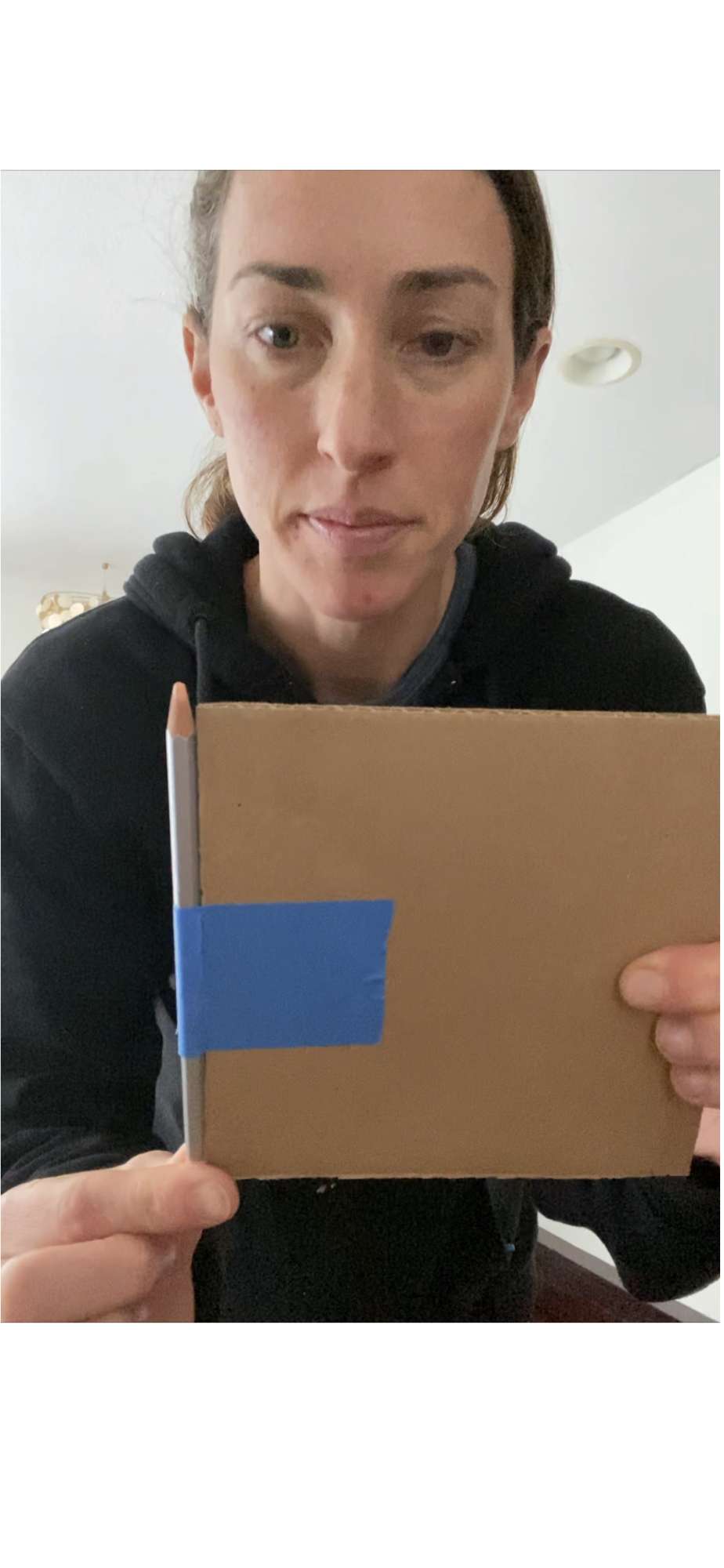 Now you can get to taping the rest of the lines. I will not lie, this part took the longest. What a pain in the butt haha but it was worth it!
Now you're ready to paint! To get my stripes to look a little water color-ey I had a cup of water next to my paint and a painters tray. I would dip the paintbrush in the water and then mix in some paint on the painters tray. Find a consistency you're happy with and brush it on! Don't worry about it being perfect, watercolor often has variations in color and areas that don't grab as much paint as others. Just. go with your heart here and get to work. I even let the kids paint inside the lines too!
Repeat this for all of the stripes. I prefer to immediately remove my painters tape. I don't like to wait because paint can dry quickly and then stick to the painters tape therefore pulling off a little when you remove the tape. Just my 0.02 :)
VOILA! A fun, modern rainbow wall that is still aesthetically pleasing and calming. Now we need some shelves, maybe a few framed pics and other room decorations to complete the look.
What do you think? Will you be trying a rainbow wall of your own? To see the entire video from start to finish, click on over to my Instagram!